Watch our services live here (click on the dacast logo below):

You will need to unmute the we b player, the graphic below show where to do that.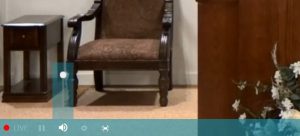 Dear Family and Friends of Bethel Baptist Church,
We wanted to personally reach out to you to let you know that we are praying for you during our nations recent health challenges.
In light of recent developments related to COVID – 19, Bethel Baptist Church will be taking the steps necessary to comply with the requirements of the order issued by Governor Kelly and Sedgwick County ' s recommendation of having 50 or less people at any public gatherings.
At Bethel Baptist Church, the health and safety of our members and guests is an utmost priority. Though we are not aware of anyone associated with Bethel Baptist Church that has tested positive for COVID – 19, we have proactively taken additional steps to minimize any risk to our church family.
Last Wednesday, we had a meeting with our Trustees & Church officers, and then with all men of our Church to discuss an action plan for the Corona virus which is on many minds. I believe that this is an opportunity for us rather than adversity. God is allowing us to go through a different season, and will give us wisdom & grace to go through it. Keep Calm & Carry On. With all things considered in these unprecedented times and for the protection and safety of ALL of our members, we have had to make some tough decisions. We are trusting God to lead us through this storm and asking God to use us to be light in this darkened world.
Enclosed is some of the things we are putting into place.
1. We will NOT have any Church services inside the our Church Building for at least the next 2 weeks or until April 1st).
2. We will have ALL Regular scheduled services Live Stream through our Website and Facebook
Our technical team has worked hard to get things up and running for this Sunday. Please be patient with us as this is a work in progress.
3. We will not be running our buses until further notice.
4. We have canceled All activities, services, and programs of our Church (except for on line) for the next two weeks.
5. We encourage every member to keep giving your tithes and Faith Promise. Please understand the work of the Lord through Bethel Baptist Church still needs our prayers and financial support. There are three options of giving available to you:
A. You can mail your offering in at BBC 3600 W. 2nd. St. N. Wichita, KS 67203.
B. You can personally drop it off at the Church.
C. Online giving has been activated via our church website
6. Please check the website frequently. We will try and keep it current with vital information, prayer request, and changes to our situation.
7. Please remember to PRAY for your Church family, for our President, for our Country, and especially those who have been affected by this recent virus.
8. Lets NOT forget one another. Please stay in contact with your family, friends, and your Church family through phone, text, mail, or e – mail. Take some time each day to reach out and encourage others.
9. Let spread God ' s hope, the Gospel, and God ' s love to this world. Invite people to watch our services on line. Hand our tracts and tell them God is in control.
We want to remind everyone what God has said in His Word
II Timothy 1: 7 that "… God hath not given us the spirit of fear; but of power, and of love, and of a sound mind. " Therefore, as we continue serving together as a church family, we will exercise wisdom and discernment in our approach, and we will recall God ' s Word to us: " Be careful for nothing, but in everything by prayer and supplication with thanksgiving let your requests be made known unto God. " (Philippians 4: 6)
Your Friend,
Pastor Jon Swope and Church Leadership
If you're looking for the right church home, Bethel Baptist Church is the right place for you.